Master of Business Administration Online
Course Overview
The University of Adelaide's 100% online MBA degree offers the practical, real-world learning you need to progress your career.Cultivate your strategic, innovative and personable leadership skills with our purposeful and holistic curriculum from a university ranked in the top 1%* worldwide. 
Connect with our expert advisors for academic, personal and career support. 
Flexible online learning
The University of Adelaide's 100% online MBA degree offers managers a world-class pathway to transformational growth.

How long is each master of business administration subject?
Courses in our online MBA are delivered one at a time in six-week blocks, keeping you focused and regularly achieving goals. You have the flexibility to start when you're ready.
What is the program structure?
The online Master of Business Administration comprises twelve courses, separated into three stages. There is the option to study the graduate certificate, the graduate diploma and the masters separately. 
To learn more about what you'll study in each course, download the program brochure. 
What should I expect from the online Master of Business Administration?
weekly interactive webinar tutorials to ask questions and deepen your knowledge  
weekend drop-in sessions with your tutors  
discussion forums with your peers and tutors  
course readings, case studies and guided research  
real-world based assessments
The University of Adelaide has partnered with Pearson, the world's leading global learning company, to deliver this degree 100% online. The Partnership has been established to deliver the very best experience and learning outcomes to all our students. Students will be awarded a University of Adelaide qualification and this degree meets the University's highest quality standards.
*QS Graduate Employability Ranking 2022.
What skills will I gain?
Through our online MBA you will acquire qualities that will truly set you apart, including: 
socially responsible and future-focused management, leadership and entrepreneurial skills 

the ability to mobilise people to address common challenges 

the capacity to set, adapt and achieve enterprise-wide objectives 
highly developed capabilities in collaboration, interpersonal communication and staff motivation 

high-level skills in innovation, business strategy, marketing and systems thinking 

a thorough grasp of how to employ basic and applied research to support sustainable business growth. 
"The MBA gave me wonderful generalist knowledge from a leadership perspective—knowledge that can be applied across multiple industries and beyond the one that I'm currently in." 
Geoff Birt, MBA Online Graduate and baking professional.
Contact us now
Get your questions answered
Monday – Thursday, 8am to 8:30pm (ACST) and Friday, 8am to 5pm (ACST).
We can help you with:
entry requirements 
curriculum 
key dates & intakes
your unique situation
finance
The skills gained from our online MBA can be applied to a range of professions, including those in the banking industry. Improve your financial literacy and ability to assess financial performance through our wide range of courses. Learn more about our MBA online graduate and online banking professional, Geoff Birt here. 
A postgraduate business administration degree is often a pre-requisite for a consulting role, especially once you reach a more senior level and wish to progress within your field. The range of analytical skills you will gain will help you tackle any future consulting project and give your future clients confidence in your abilities. 
Our MBA students graduate with a firm grounding in the key skills required to successfully run a public or private organisation including strategy, financial management, marketing and leadership. The broad curriculum is designed to be adapted to a wide variety of government and not-for-profit functions. 
LIVE information session
Date: Wednesday 29 March 2023
Time: 6:00 pm
Register now for the upcoming conversation between our academic tutor and a recent graduate, covering our program curriculum, online study experience and career success stories in just 20 minutes.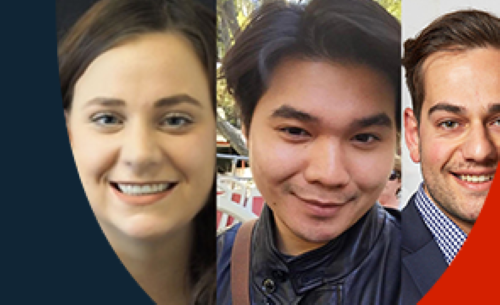 Get in touch
Our Expert Advisors are available
Monday – Thursday, 8am to 8:30pm (ACST) and Friday, 8am to 5pm (ACST).
We can help you with:
entry requirements 
curriculum 
key dates & intakes
your unique situation
finance
Download a brochure now
Request a brochure to learn more about:
learning and career outcomes
curriculum
entry requirements
application process  
research project online  
assessments and more.